Rotary Hearth Furnace Line
INTRODUCTION
AICHELIN rotary hearth furnace is used for heating and quenching of spiral bevel gears, synchronizer gear sleeves, bearings and other parts in a large-scale protective atmosphere. Due to small space taken up, high continuous production capacity, one furnace door for loading and discharging, and the multi-layer traying is used to realize gas carburization, carbonitriding, clutch diaphragm hardening and bearing rings as well as other components Bainite isothermal quenching.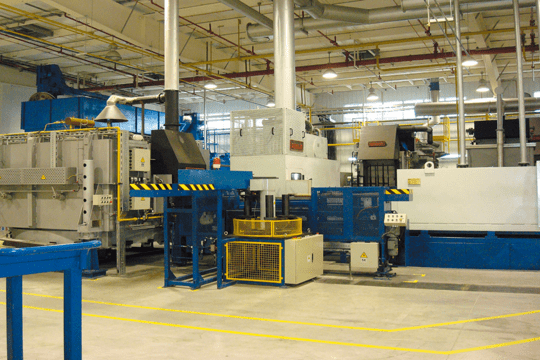 CONSISTS OF LINE
The typical type of rotary hearth furnace consists of rotary hearth heating furnace, automatically charging and discharging device (or manipulator), multi-positions press quenching machine, washing machine, second cooling, tempering furnace, and control system, etc.

The control system continuously combines the current informatization and industrialization. In addition to have basic modules such as automatic generation of control processes, automatic recording of process parameters, and realization of product tracking and traceability, its expansion modules add energy consumption statistic and analysis, mobile host computer monitoring system, realize the interface with the workshop MES system, and etc.

MAIN PROCESS
Press hardening
Hardening in oil / salt
Shallow carburizing
Carbonitriding
MAIN COMPONENTS
Standard parts
Clutch Parts
Bearing
Tools

TYPICAL LAYOUT OF THE LINE
Layout of Rotary Hearth Furnace with Press Quenching