Pusher Type Furnace Plants - For Heat Treatment of Large Capacities
INTRODUCTION
Pusher type furnaces for gas carburization are quite economical and energy saving due to their continuous operation and their high-performance output. With the upgrade of products, the degree of automation is getting higher and higher, and widely welcomed by users of large-scale continuous production industries such as automobiles, gears, bearings, etc. The double – row pusher type furnace can further obtain different carburizing depths in one furnace.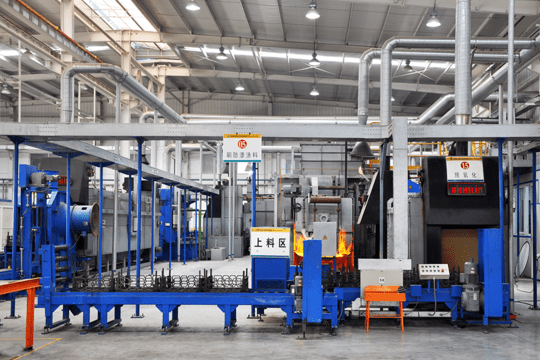 CONSISTS OF LINE
The production line consists of loading device, pre-heating furnace, heating furnace, carburizing furnace, diffusing furnace, quenching tank, washing machine, tempering furnace, unloading device and control system. The number of equipment can be modularized according to the user's output and site conditions.

The control system continuously combines the current informatization and industrialization. In addition to have basic modules such as automatic generation of control processes, automatic recording of process parameters, and realization of product tracking and traceability, its expansion modules add energy consumption statistic and analysis, mobile host computer monitoring system, realize the interface with the workshop MES system, and etc.

The industrial robot press-quenched workpiece transfer operation introduced by Aichelin fundamentally solves the shortcomings of poor stability and low efficiency of manual press-quenched products, improves the reliability, stability, and safety of personnel operation of the equipment, and reduces the labor force intensity.
MAIN PROCESS
Quenching/Tempering
Carburizing quenching/ carburizing press quenching
Carbonitriding
Isothermal normalizing
Stress relief annealing
MAIN COMPONENTS
Automotive parts
Gear parts
Roller bearing components
Standard parts
Engineering and machinery parts

TYPICAL LAYOUT OF THE LINE